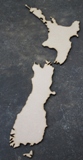 Discounts on Everything as well as FREE POST in NZ for all products
Discounts ** $80 = 10% ** $100 = 12% ** $150= 15%** $300 = 20% ** $500 = 25% ** $1000 = 30%
Specialists in the supply of mosaic bases, acrylic laser cutting and vinyl vehicle graphics.

Laser engraving is the practice of using lasers to engrave or mark an object. The technique does not involve tool bits which contact the engraving surface and wear out. This is considered an advantage over alternative engraving technologies where bit heads have to be replaced regularly.

The impact of laser engraving has been more pronounced for specially-designed "laserable" materials. These include polymer and novel metal alloys.

In situations where physical alteration of a surface by engraving is undesirable, an alternative such as "marking" is available. This is a generic term that covers a broad spectrum of surfacing techniques including printing, hot-branding and laser bonding. In many instances, laser engraving machines are able to do marking that would have been done by other processes.